We have a self contained cable stripping facility onsite with the latest processing machines. This facitily enables us to offer excellent prices for Copper or Aluminium cables.

Each year scrap cable contributes significantly to landfill sites and creates long-term environmental issues due to the fact that plastic coatings are not biodegradable.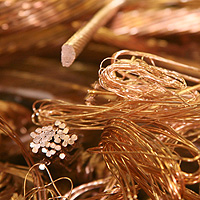 With increasing pressure on companies to recycle waste such as cables and the spiralling cost of disposing of this form of waste, London City Metals has invested in the latest cable processing technology to provide you with an efficient and cost-effective service.