London City Metals Limited moved into new, purpose built facilities in 2010. We are located close to the centre of London and London City Airport and are perfectly placed to service the needs of our national and international clients. Our facilities are rapidly expanding and include ferrous department with a Taurus 500 ton shear, 3 x JCB grabs and an A-ward container tilter which enables us to load scrap into containers onsite for immediate export to accross the globe. Arriving soon: a new 800 ton shear.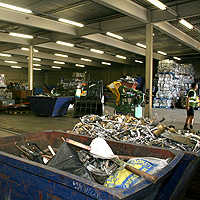 We have a cable granulation department with a new Matrix 1000 system, a bailing facility for bailing and palletising non-ferrous for export, a shearing department that allows us to shear material by hand and keep a strict control over quality.

Today's modern metal processing market requires quick response times, high service levels and a quality product. Technology at our new facilities allow us to ensure we stay ahead of the market while offering highly competitive pricing whether we are buying scrap or selling processed materials. Click here for a map of our location.