Our customer base constst of the general public and small private companies to bluechip PLC companies & other scrap merchants. We collect scrap or it is delivered to our works where it is electronically weighed and sorted by hand into different grades.

This is then either pressed into bales and palletised, or sheared in to bins ready for resale either direct to the foundries in the UK or for Global export.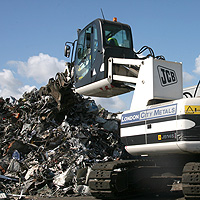 Our industry plays a key part in reducing carbon emissions and limiting the environmental impact of using the world's natural mineral resources.

For example, recycling Aluminium from drinks cans uses only 4% of the energy required to obtain the same weight of raw material from Bauxite (Aluminium ore).