As well as providing a a collection service with a guaranteed maximum 24hr turnaround, choosing London City Metals means you're assured that the correct equipment will be used to transport all of your scrap metal in an efficient and cost-effective manner. We will use our extensive expertise to develop a bespoke scrap removal plan to meet your specific requirements. Our industry plays a key part in reducing carbon emissions and limiting the environmental impact of using the world's natural mineral resources. Our vehicles include:-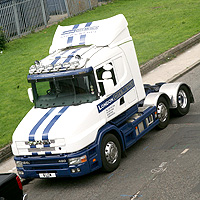 1 Ton Pick up Truck, 7.5 Ton roll-on-roll-off, 7.5 Ton flat bed, 26 Ton roll-on-roll-off, 26T flat bed, 32 Ton roll-on-roll-off, 32 Ton flat bed, 44 Ton tipping trailer, 44 Ton flat bed.

We can do wait and load, or drop off skips at free rental. All of our vehicles carry a waste carriage licence and public liability insurance and have 24/7 tracking devices.